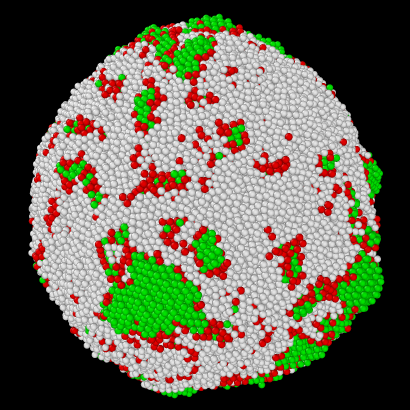 1Institute for Solid State Physics and Optics, Wigner Research Centre for Physics, P.O. Box 49, Budapest H-1525, Hungary
2BCAST, Brunel University, Uxbridge, Middlesex, UB8 3PH, United Kingdom
Two-step nucleation and subsequent growth processes were investigated in the framework of the single mode phase-field crystal model combined with diffusive dynamics (corresponding to colloid suspensions) and hydrodynamical density relaxation (simple liquids). It is found that independently of dynamics, nucleation starts with the formation of solid precursor clusters that consist of domains with noncrystalline ordering (ringlike projections are seen from certain angles), and regions that have amorphous structure. Using the average bond order parameter q¯6, we distinguished amorphous, medium range crystallike order (MRCO), and crystalline local orders. We show that crystallization to the stable body-centered cubic phase is preceded by the formation of a mixture of amorphous and MRCO structures. We have determined the time dependence of the phase composition of the forming solid state. We also investigated the time/size dependence of the growth rate for solidification. The bond order analysis indicates similar structural transitions during solidification in the case of diffusive and hydrodynamic density relaxation.
Topics: Phase field crystal